Our friends Rod and Jackie decided to leave Myrtle a week earlier than planned.  They wanted to get together one last time as our paths won't cross again until spring fields are being replenished by Amish manure spreaders. Ryan's was the suggested meeting place. Why not? The afternoon special for seniors was a pauper's delight and those buffets meant that the day's last meal could be expunged.  As we dined we shared stories and new information about a club for Pennsylvanians living in Myrtle. The conversation was endless, and soon we found our quartet the only patrons in the place. Such was the quality of our visit.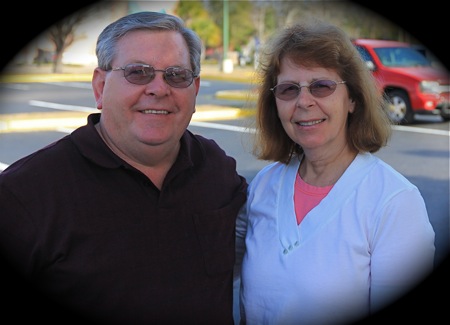 We traded hugs and handshakes in the parking lot, knowing that there would be other times and other days when their good company would grace our home or table. We headed to the Colonial Mall as Robin needed to exchange a few clothing items I had talked her into purchasing and given some afterthought she found them not conservative enough for her liking. That was fine with me. It gave me some time in Books A Million to grab another literary edition. My last venture there, I found "Destiny Republic". Its a tale of madness, medicine, and the murder of President James Garfield. I'm sure by now you're thinking my taste is somewhat mundane but the author is the prize winning Candice Millard. I've read her previous best seller, "River of Doubt" and this one is proving just as scintillating.
No sooner we arrived  home from the mall that the phone rang. It was Mike inviting us over for the evening as they were having a small house party and wanted us to meet some of the neighborhood friends. Oh God.  Could we possibly put more food into our bellies?  Why not?  We had a large bottle of Reisling that needed to find another home.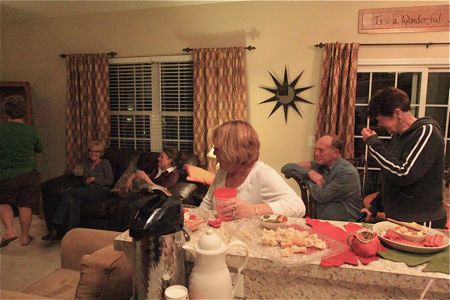 As always Mike and Gail had put on a spread that found us all gathering around the kitchen bar.  Grilled veggies, chicken, seafood, cheeses, were just the tip of the food chain. I can't even remember all the offerings due their numerous choices.  It wasn't long before we felt as if we'd known our new acquaintances for some time. Laughter and the ever present pull of "why don't you just move to South Carolina" were the key note items of the evening. The guests dispersed into a couple of room but soon the lies and stories had pulled us all together.
I caught Mike lying to Robin and trying to make her believe what he was saying was honestly the truth. Imagine!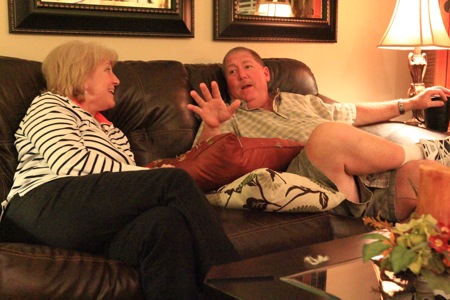 Other lies were being spread as even the men talked of things that are often exaggerated beyond belief!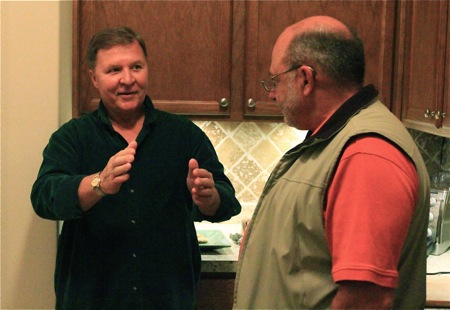 All the while,  wives didn't seem impressed with incessant bragging rites and seemed to take a doubtful attitude!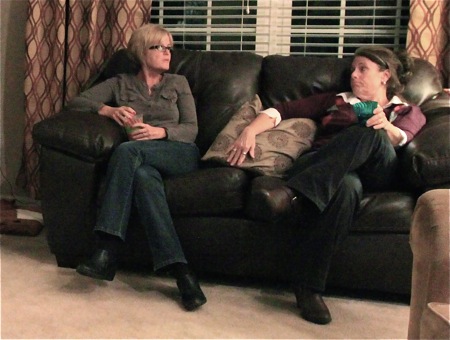 After ten o' clock we had passed my three hour rule. "Never stay more than three hours. You'll be invited back. After that, they're thinking, when are these people going to leave".  We had a great time, hugged our new friends a good night. Gypsies don't say goodbye, hoping that again our paths will cross.