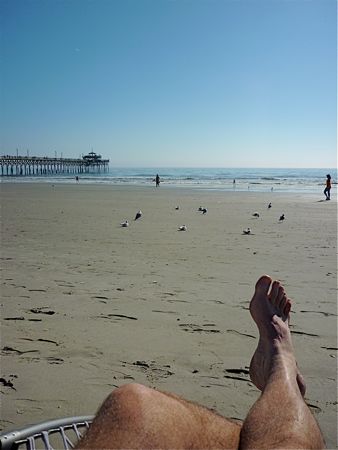 There is an ongoing daily attempt to combine the sun and sand as the temperatures have been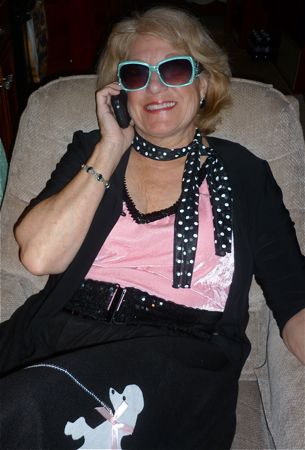 hovering in the mid 70's. I'm sure that the annual hell on earth that we call February will soon and severely alter our lives.
We're not the quintessential beach people. We enjoy a morning stroll, and love the breeze but the idea of sand in the shorts or shoes is not worth the trade-off.  However, there exists in all of us that anthropological pull to this venue that is innate in our make up as human beings, given our origination from the seas.
Listening, as one would with their ear to a conch, the mere sound of crashing waves and the receding of tides is often enough satisfaction.
But when not wanting to make the fifteen minute trek to the shoreline, the activities at our current location continue daily, ranging from cards and shuffleboard to horseshoes,bicycling, fishing, golfing and the morning coffee clatch. There is at a moment's notice, a large contingent  that will engage in a myriad of small and personal activities.
But at least once a month, the office staff plans and host's some sort of party or gala. This week the theme was a 50's Sock Hop. Wanting to be in-tune with the theme, a few weeks ago I googled the internet and with the aid of UPS I was able to procure a poodle skirt to surprise Robin.  I also purchased a pink sweater as I knew she already had the bobby socks that would complete the ensemble.  Our visit to the local Goodwill store for some accompanying accessories completed an outfit taken directly from the  archives of "Happy Days".  The intended plans for my outfit were simply for the rolled cuffs on my jeans, a pair of penny loafers, and the ever-present cigarettes, rolled into the sleeve of my t-shirt. However, while shopping the aisles of this second-hand heaven, I wondered if just a t-shrit would suffice in the evening chill.  It was then that I spied a multi color houndstooth blazer.  A perfect fit and at a price of $4.79, I couldn't pass it up.  Had it been a day later I could have had the 25% Thursday discount. But I needed it now.  So I sprung for the extra dollar.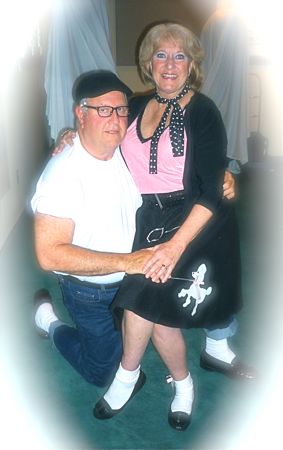 It has been years since I had even asked about buying a pack of smokes. While gassing up at the local Kangaroo I entered the store and found a pack of Pall Malls, also on sale for a mere $3.50.  I had asked the lady clerk for a soft pack, only to be informed that there was a move away from these to the box style.
I surmised that I needed a pair of those thick black spectacles. Those of you who lived the 50's and 60's should recall them. I'm remembering back to my elementary school days and  that was the only choice to buy. I just happened by a kiosk in the aisles of a Books A Million store and there they hung. The klunky frames, not very endearing to any onlookers, and only a few dollars more. I had a complete outfit for under $10.
All the while, I had been contemplating a  photograph of Robin, dressed as she might appear for a drive up to Al's  soda fountain,  standing in front of Ron's and Debbie's newly purchased '55 Chevy BelAir.  Ron and Debbie just live about two blocks away.  Prior to the dance, I saw them cruising the campground in their fin-tailed wonder.  Ron had attached a tray to the outside of his driver's side window, complete with burger and a small package of fries.  However, any semblance of  lighting had passed as they drove to our site . Evening had come and the dance was about to begin.
Approximately 30 couples were treated to popcorn, cherry red, and complimentary refreshment. All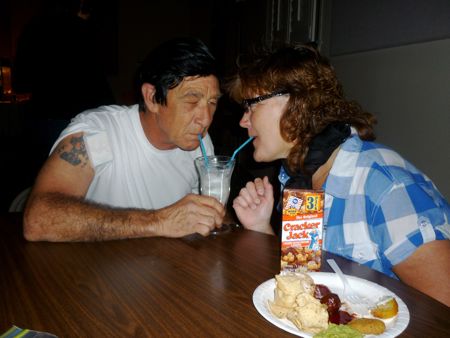 attendees brought a bevy of appetizers, and desserts, along with Bringing Your Own Bottle.  The DJ played a medley of Doo Wop, American Bandstand, and other Oldies  for the next three hours.  Robin and I danced over and over again, until ringlets shone on the tendrils hugging her cheek.   With each sip of wine, every swig of Ron's soda fountain concoctions, we thought somehow we were becoming better and better dancers. By ten o'clock, Robin was exhausted.   She was ready to leave.   I found that when I arose to stand, I couldn't.  Apparently, Ron's soda fountain drinks were more  vodka than they were any other ingredient.  The fermented potatoes crept into the senses like a thief in the night.  I teetered out the door with some assistance and smartly decided Robin should be the designee for the four hundred yard drive home.  Oh, What A Night!