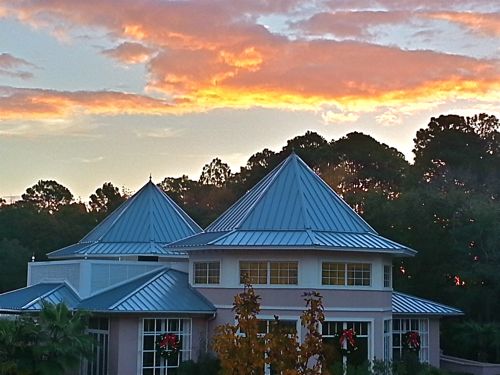 I've spent this past week on Hilton Head Island.  I have no RV park to review this time.  The bus remained in Charleston.  I was fortunate enough to be able to cash in on a time share exchange.  I rented a car for this trip.  Fortune proved even more than I expected.  The only space available for me on HHI was a three bedroom villa, at no extra cost for the additional living space.   The place was far more than I expected and oh, so spacious.  So I wandered around aimlessly for a few days imagining what I was going to do with all that room after living in four hundred square feet for the past several years.  It was Tuesday before I realized that what I thought must have been another huge closet was the laundry room.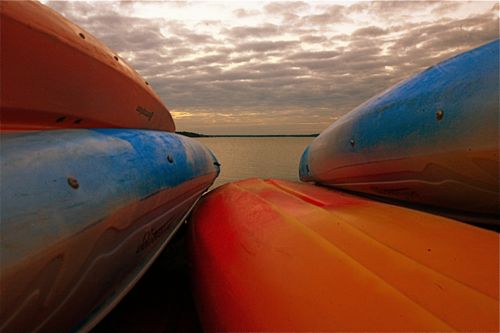 Hilton Head can be extremely tricky to navigate.  It originally was a wildlife and nature preserve and the founding fathers have made a valiant attempt to keep it that way.  By this I mean housing developments, businesses, commercial centers are all tucked away into the woods far enough off the thoroughfare that they're actually hard to find.   Just enough vegetation has been removed from the island for highway and secondary road infrastructure.  There are no signs as high as the trees. In fact, not many signs can be seen from the road.  Once I realized that the island is shaped like a tennis shoe it made things a little more geographically understandable.  But the coup de grace was giving into technology and finding Walmart with the use of Google maps instead of searching for the big blue sign.  The island is beautiful not only for it's natural grace but for the man-made additions done with planning and care.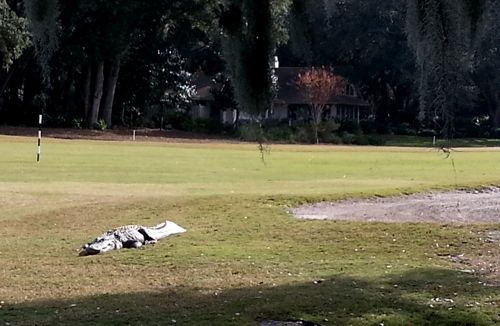 Of the six days that I was there, four of them were spent on a variety of golf courses.  The concierge at the Marriot Surfwatch, my home base for the week, would take care of planning and scheduling the course and tee times.  Robber's Row, The Shipyards, and Planter's Row all all Pete Dye designed courses that I would recommend to anyone wanted to play the island. They are well manicured and meticulous, a bit unforgiving, but you only play her once in a blue moon. Lastly, the course at Hilton Head Lakes was in dire need of watering. I would only recommend this venue to those that need 'wide open spaces' and love the feel of beige carpeting beneath your feet.  By the way, most all of the courses are dotted with live alligators, feeling comfortable enough to stray from their aquahomes to bask in the sunlight of the fairways.  For the most part, I played with other folks from various parts of the country.   Was it ironic, but I did find it a bit strange that of the ten different people that I partnered with this week, six of them were retired engineers.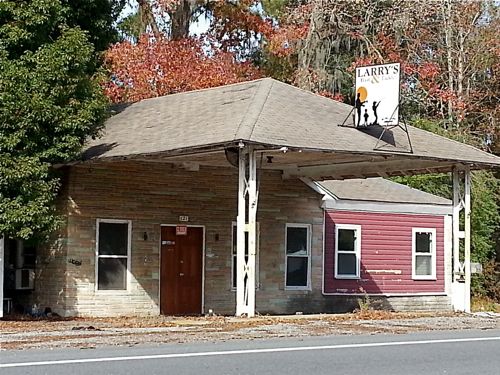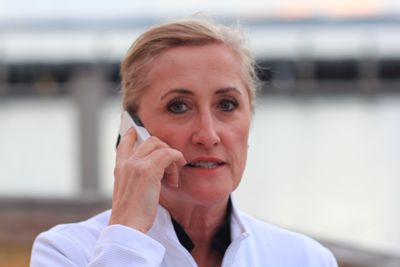 The final two days of my stay,  I was joined by my sister.  Lisa flew down for her own mini vacation, to soak up some sun and to prove she was my superior as a links partner.  I drove to the Savannah airport to retrieve her via backroads and blue highways.  This was my effort to seek out some additional RV parks for future use.   But again, the internet can fool you. There were some absolutely stunning shots placed on their particular websites, but  upon driving to view the facility, once again….foiled by reality.  One of the parks, advertised for big rigs, just off the interstate near Hardeeville, SC. piqued my interest.  Reading the website offerings actually made you feel like family.  I couldn't wait to see this diamond in the rough.  Once there, I could never recommend the place to anyone.  Out in the middle of butt-fuc%$* egypt, nothing to do, and absolutely no ambiance.  Do not go there, do not pass go, just keep driving.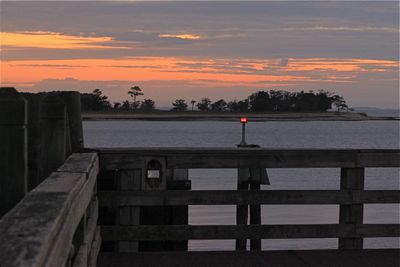 When I wasn't on the golf course, I spent considerable time at the facilities of Surfwatch.  The indoor pool and spa, workout facilties and steambath were first rate. I would recommend the Marriot Surfwatch to anyone wanting to visit the Island. It's a short 1/4 mile walk to the beach, all within the confines of the property and the staff couldn't do enough for you, accommodating in ways that don't come to mind initially.  I did find some time away from R&R to visit a few of the shopping areas in search of Christmas gifts for my better half, but then what again do you buy for a women who wants for nothing.  Perhaps, I'll just put a bow on my sweater vest when I fly north next month.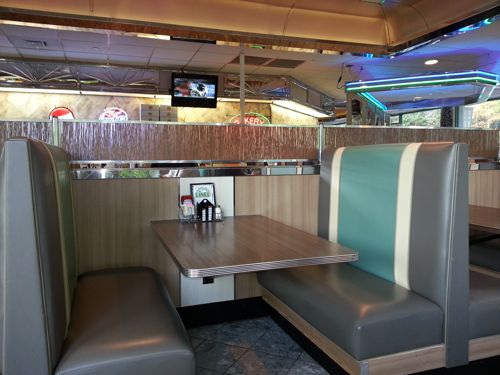 Hilton Head Island was absolutely idyllic. Will I go back there? Surely again, for a week here and there. Could I live there?  Not for me. Although the weather averaged 75 degrees this week and the days were sunny, not much sun reaches the homes, the businesses, and parks. As previously stated, most are nestled within the vast preserve of palmed forests. Not enough sunlight comes into these abodes for my likings. I would find myself getting a bit depressed once again from this constant shady living. On our last night, Lisa and I splurged for a burger at the HH Diner.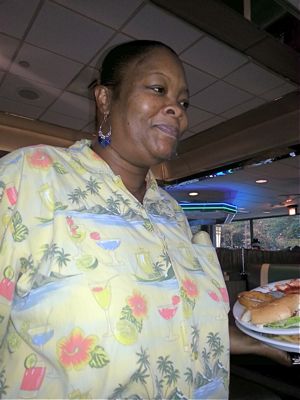 Isabelle, the most fascinating waitress I've run across told us most of her life's story. And it was a pleasure to listen.
Prior to sunset we drove to Harbour Town, located at the tip of the 'tennis shoe' to see the lighthouse,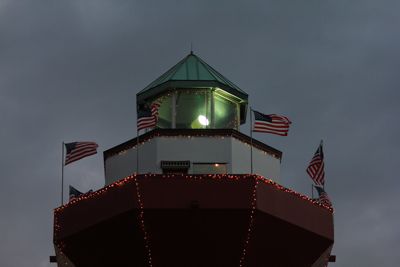 take in the harbor, and watch the sun go down.  Today, I drove Lisa back to Savannah International as work beckons her at Monday's coming.  I returned to Charleston and readied myself and the bus again for another road trip. Tomorrow I shall make my way north to Myrtle Beach.