We were discussing movies with friends the other day, reminiscing the myriad of cinemascopes that have passed through our collective mind's eye.  I mentioned the fact that I never seem to watch a movie more than once, with the exception of Godfather I and II, and Remember the Titans.  The talked turned to "have you seen this classic" , or did you see this Academy blockbuster.  I even recalled my first drive-in, watching Breakfast at Tiffany's in the backseat of a '57 Chrysler, never paying attention much to the movie.  I was more interested in stuffing my mouth with popcorn and pecking at  my younger brother just because I was two years his senior. I did come away with a love for "Moon River", however.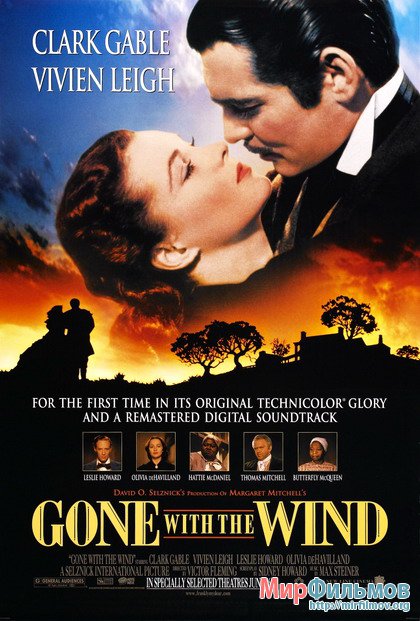 And then we were stunned.  The ultimate question was posed.   Faces were aghast at our response.  "Do you remember Gone With the Wind?"  Both Robin and I sheepishly looked at one another and admitted we had never seen it.  The crowd was appalled.  "You've never seen it", they cajoled.   "No!", almost desperately seeking  an exit.  The raves and rants went on.  How could we consider ourselves movie buffs without ever have seeing the best movie ever made?   That did it. This week we ventured to Best Buy. Looking through the oldies section we hit pay dirt.  There it was, a debonair Clark Gable adorning the cover., embracing the vivacious Vivien Leigh.   We made the purchase and relished in the fact that the rains of the early week would be met with this three hour marathon.
Into the DVD, settle back with some microwave popcorn.  After a few minutes I would glance over at Robin stirring on the couch.  Not like her.  She's usually coffin-like when she settles in for a good movie.  I caught her glancing back out of the corner of my eye.  This was not a good omen.  I opened my mind, hoping my mental indiscretions were part of a sullen weather day.  Finally, after twelve minutes we blurted out, almost on command, please can we try this another day.  I admitted that it wasn't my attention deficit disorder.  I just was simply bored out of my mind.  Ditto from the fairer sex.   In popped an alternative DVD. We battled the gloom of the rain with the History Channel'l Lincoln and found it much more enticing.
The next day, more rains came.  We looked at one another and voiced another try simultaneously.  When you live together as long as we have, oftentimes words go unspoken as a mere look is enough to know what the other is thinking.  "Let's give it another try, Larry."  "
What", you mean Gone with the Wind?"   Fast forwarding to yesterday's departure point, we began anew, with a fresh and inviting attitude.  Yesterday's twelve minutes was a milestone.  We made it an epic seven minutes.  Neither could take the punishment anymore.  We been told we step to a different drummer.  Often, our best friend's find our behavior odd at best.  Perhaps their worst summations ring true of us.  Nevertheless, I have a perfectly good DVD of GWTW available for the taking.  We're no longer interested.