Quite often I have either written or voiced the idiom, "isn't life strange, a turn of the page." Never has it smacked me in the face as it did this week. Mornings here have been quite laden with fog rising from the Suwanee.
I usually walk down to the dock before morning coffee to watch the mist rise into a limbo of sunlight and disappear as quickly as it rises. It's peaceful there, and quiet. 
The water is silent, the docks motionless, and if you're eyes stay keen, you can almost creep right up on the birds that await their morning sustenance. I was lucky to catch one swooping in for a landing and a breakfast of fresh lizards.

It reminded me that we were to meet Judy and Stoney, friends from Williston. After our morning walk we headed to the Neals as they were taking us to dinner. Charlie's Fishouse Restaurant in Crystal River was a hit.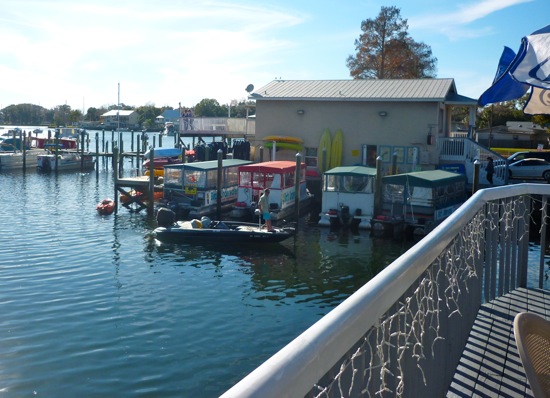 Some of the best seafood that I've sampled in Florida. Inexpensive, on the water, pelicans awaiting your every need, and good company made for a great day.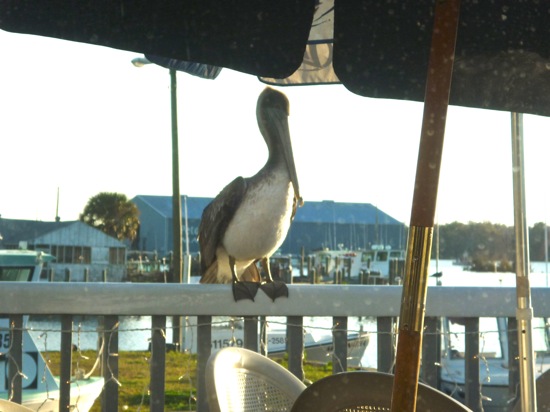 There was still a bit of daylight remaining after dinner and Judy and Stoney wanted to show us around. We decided a short drive out on the Fort Island Trail leading to the Gulf of Mexico. A good choice as we arrived shortly before the horizon engulfed the setting sun. It was worth the trip out of the way. 
The next day we did find our way to Gainseville to meet up again with Tom and Joan. We had befriended them last winter in Savannah while they were hosting in a park where we camped for two days. Later this summer they were engaged as workampers at Lake In Wood and we re-acquainted with them there. They've purchased a house on the outskirts of  Gainesville and have put their fiver on the market, having purchased a class B, in preparation for a few months on the road out West.  The remainder of the week was pretty much dedicated to our daily walks, a bit of work on the dumbbells, some laps in the pool, floating, and espousing personal philosophies to fellow snowbirds. Notice I went from laps in the pool directly to floating. I'm not sure all this "working out", is working out. Approximately two hours a day are engaged in some sort of physical exertion but much to the dismay of both of us, we're not acknowleding much of a significant weight loss. We'll keep trying as it makes us both feel better but the loss of weight is in inverse proportion to our growing age. Dismayed by this lack of girth loss, I decided to make donuts for Sunday church services. I placed the oiled pot on the burner out front. I stepped inside to acquire the dough I already had prepared and punched into donuts and holes. In that 20 second time period a grease fire and flames roaring to the top of the windshield. Robin tartly beckoned my attention. I ran out to hopefully put an end to it while she grabbed for the extinguisher. Much to our dismay the Full indicator wasn't quite right. Our neighbor saw the commotion and grabbed his as well. It didn't work either. Thankfully another adjacent camping family came to the rescue with a full bottle of flame retardant but much to my chagrin, the front of the bus as well as the bra is going to have to be replaced.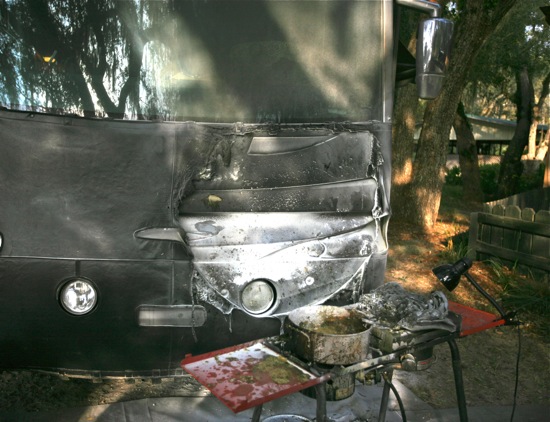 It wasn't long after cleanup that Robin had heard young Hunter hollering for his dad that one of the parks' boats were sinking. We quickly ran down to the dock with buckets and anything that would hold water.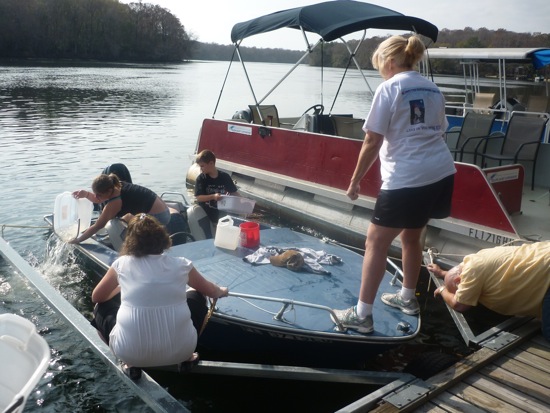 Joe and his children bailed out the water, C.J. and Stacy held the front of the boat taut at the foreside, while I snapped away at the chaos. The trio had emptied the boat out enough for me to hook up a trailer to my truck and pull Joe and the sinking USS Minnow to shore. Needless to say, church was a bit delayed today.
Lessons learned….1. Enjoy friends and loved ones as if you'll never see them again….2.Make homemade donuts as far away from the rig as possible….3.Don't make homemade donuts, go to Walmart or Dunkin' and buy them….4.When no one gets hurt in an accident, rejoice as the other stuff can be replaced. It's only money….5 Have several fire extinguishers on hand at all times, locating at least one outside and two at either end of your rig inside.  And now that I know things come in 3's, I'm wary at what may be next.